ID: D-2163
A képekre kattintva a fotók nagyobb méretben is megtekinthetők!
Spacious 3-storey house with panoramic view for sale in Magyarhertelend, Baranya county.


The house is for sale together its furnitures!
Quiet location, panoramic view in the neighbourhood of the Hertelend thermal spa: www.hertelenditermal.hu
The size of the house is 95 sqm:
-       basement: garage, storage room and utility room
-       ground floor: living room, kitchen-dining room, pantry room, shower, toilet, bedroom and terrace
-       loft: 3 bedrooms, bathroom-toilet, balcony
Water, electricity, central heating by the wood burner, tile stove, sewer, cable internet. Gas is connected till the front garden.
The well kept plot is 653 sqm with garden shower and place to have bbq parties.
A lot of leisure opportunities are given nearby like thermal spa (Magyarhertelend, Gunaras, Sikonda, Harkány), hiking, fishing, theme park/spa/bowling in Bikal, Orfű Lake and aqua park. Pécs is only 22 kms and Dombóvár is 30 kms.
Balcon

Garage

Water

Electricity

Phone

Heating with oven

Internet

Cable TV

Central heating

Sewerage
Other comment
No comment.
Contact
Marta Dudás
Mobil : +36 20 985 2601
Csaba Nagy
Mobil : +36 70 408 5949
Fax : +36 74 460 234
E-mail : info@europlusimmo.hu
Special offers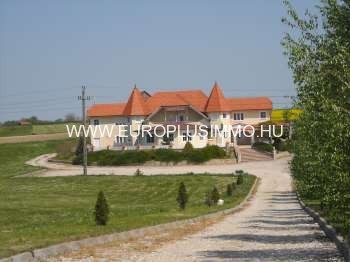 D-1170
Lodge and Restaurant!

Located in Baranya...More