ID: D-2186
A képekre kattintva a fotók nagyobb méretben is megtekinthetők!
Insulated 2-storey house with large plot for sale, close to city and thermal spa


The house is located in Kapospula-Alsóhetény. The nearest town is Dombóvár (8kms) with supermarkets, restaurants, hospital, schools, tran,- and bus station and thermal spa.
The house has been built in 2008. The size of it is 110sqm on 2 levels. Ground floor: hall with built-in wardrobe, living,- and dining room-kitchen, pantry room, shower-toilet, staircase. The stairs lead from the living room to the upstairs. Loft: galery room, bedroom, bathroom with bath and toilet. Garden, fruit trees, south-facing terrace and a wooden garage-storage building are on the fenced plot.
The whole size of the land is 2907sqm.
Water, electricity, industrial power, gas, central heating (gas boiler), septic tank, cable internet, shutters
Are you looking for peaceful and independ place in picturesque, Hungarian surroundings?
Would you like to run your own Mediterranean organic garden, enjoy your own fruit and nut trees and healthy fresh eggs for breakfast?
But not give up supermarkets, restaurants and thermal baths?
Then you are exactly right with this house! FURNISHED, incl. ALL GARDENING EQUIPMENT , incl. TOOLS , LAWN TRACTOR Unfortunately, for family reasons, we have to sell our house and hope to win you as the new, loving owner. The house has 125m² of living space and was built in 2008.
The plot is 2907m ². Domestic equipments: Modern, open floor plan, fast internet: approx. 20MBit can be increased up to 100MBit Gas heating: 3m³ tank, heating costs: about 700 € per year, gas water heater in the bathroom all furniture included, Washing machine, Dryer, Dishwasher, Microwave, Multifunctional shower, spacious workshop 40m² including all garden tools and carpentry tools Septic Tank Chicken coop for approx. 10 chickens, approx. 3m² (yield: approx. 5-8 eggs per day) Doghouse Glasshouse, Composting, Organic vegetable garden Greenhouse dimensions 2mx2m Lawn tractor: Model LC125 built in 2010 Garden: Carrying trees: 2 apple trees, pear, peach, nectarine, apricot, sour and sweet cherries, almond, walnut, hazelnut. Shrubs: Plums, gooseberries, Jostaberry, currants, table grapes, kiwis, figs, aronia and strawberries. Organic vegetable patch, farmed without chemicals or manure
Location: At the picturesque fish pond, in a small village community, on the border to Dombóvár (30,000 inhabitants). Busstation with hourly city and train station connection opposite to the house.
The city of Dombóvár offers all the possibilities of a complete infrastructure with schools, hospitals, doctors, dentists, hotels and pensions as well as many cultural and shopping opportunities, supermarkets such as Tesco, Lidl, Penny, Spar. Also the thermal bath Dombóvár-Gunaras invites you to relax. Many other thermal baths are nearby, such as: Magyarhertelend, Tamási. As a transport hub of the region Dombóvár has a very good transport links, for example. with IC trains to Budapest-Pécs every second hour. Miscellaneous: The workshop is basement (insulated) 7,5m² including heavy duty shelves and offers enough storage space for preserves and supplies. Car parking for at least two cars.
Garage

Water

Electricity

Gas heating

Phone

Industrial power

Central heating
Other comment
No comment.
Contact
Marta Dudás
Mobil : +36 20 985 2601
Csaba Nagy
Mobil : +36 70 408 5949
Fax : +36 74 460 234
E-mail : info@europlusimmo.hu
Special offers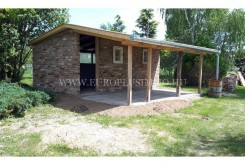 D-2270