ID: D-2282
A képekre kattintva a fotók nagyobb méretben is megtekinthetők!
In Baranya county registered Youth Hostel, Horse Farm, Resort Complex is looking for its n.


The complex is located in a charming little settlement in Baranya County. Hilly countryside surrounded by forests and fields.
In the neighborhood you can find the famous Bikal Theme Park. Next to the park there is the well-know Puchner castle/hotel where you can find spa, Turkish bath, bowling court and restaurant.
Dombóvár city can be reached within 15 min. There you can find supermarkets, thermal spa, train station, hospital, schools and all kind of shops. Komló and Bonyhád smaller cities are within 30 kms.
Lake Orfű, Magyarhertelend thermal spa 40 kms away. Pécs is 50 kms and Lake Balaton is 80 kms.
Description about the complex:
As a result of the modernizations and continuous developments that have taken place over the past decades, they now await their guests with quality, cultured, European-standard service and hospitality, open all year round, many rooms and all together with about 140 beds.
The price includes 2 plot numbers with more buildings on them:
-          a 2-storey (L-shape) house with living space + comunity spaces
-          a 2-storey guest house + kitchen and restaurant/dining room
-          a barn + storages (+ there is a cattle-pen behind this building)
-          a building with storages and workshops
-          and another farmhouse which is located oposit the above buildings
+ Garden oven, basketball backboard, table tennis, benches, cellars under the buildings, playground...
The complex has all the necessary official permits. Each accommodation has all-inclusive facilities, such as a HACCP-compliant kitchen and restaurant, as well as a separate small buffet unit.
The price of this complex includes other functional equipment and additional units belonging to the accommodation such as restaurant and kitchen equipment, bed linen, various covers, textiles, as well as built-in furniture and seasonal decorations.
One plot is 5830sqm. An the other plot with the farmhouse is 868sqm.
Water: there is a well in garden which provides water for the buildings.
Hot water and heating: the water can be heated by the solar panels and or a wood-fired boiler.
Electricity: normal electric + industrial power + solar panels
The annual cost of hot water and heating is approx. HUF 100,000/year. In addition a 17 kW solar collector installation is under construction.
Water

Electricity

Phone

Internet

Industrial power

Cable TV

Central heating
Other comment
No comment.
Special offers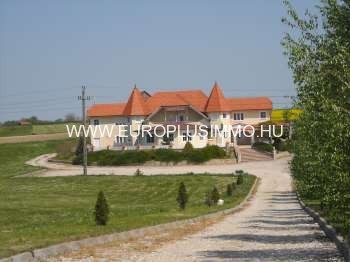 D-1170
Lodge and Restaurant!

Located in Baranya...More